Earning Your PharmD at USC
We established the world's first Doctor of Pharmacy (PharmD) and remain a trendsetter in enabling future pharmacists to serve patients and communities at the profession's highest standards.

Earning your PharmD at the USC School of Pharmacy prepares you for leadership in the field—no matter which area of practice you choose. We continually refresh our curriculum with new courses that reflect the pharmacist's importance as a frontline healthcare provider.
USC Advantages
How has the USC School of Pharmacy added value to your life?
"The curriculum teaches and prepares students for the new roles played by pharmacists. The school encourages input from students and is not afraid to make changes to the curriculum to help students grow and thrive."
Ana Barron
PharmD '19
PGY-2 Psychiatric Pharmacy Resident at Riverside University Health System
How has the USC School of Pharmacy added value to your life?
"USC is definitely true to its reputation of providing broad networking opportunities. I can name so many faculty members that have served as role models and mentors in my professional career."
Ken Thai
PharmD '02
CEO, 986 Degrees Corporation
What factors influenced you to choose USC?
"With my research of several pharmacy schools nationwide, I was drawn to USC because they offered a plethora of information on the PharmD program regarding career options, fellowship programs, and research interests in several areas related to pharmacy."
Evans Pope III
PharmD '25
What makes the PharmD program at USC unique?
"At USC, we have a diverse definition of what a pharmacy career entails. Whatever you imagine for yourself, you can do it here, and you can find a mentor at USC to guide you along the way."
Kari L. Franson
PharmD, PhD, BCPP
Associate Dean for Academic and Student Affairs, Professor of Clinical Pharmacy
How did you come to the decision to pursue your degree at USC?
"I came to the decision to pursue my degree at USC by taking many factors into consideration.  The location of USC allowed me to continue my studies while being relatively close to my loved ones in Southern California. The many opportunities to build my network with those associated with USC was something that I highly valued. Furthermore, I wanted to gain experience in a wide variety of pharmacy settings in the Los Angeles area, which I knew USC offered."
Anthony Sablan
PharmD '21
What originally attracted you to pharmacy?
"I was originally attracted to the breadth and depth of the education one gets in pharmacy school and the broad spectrum of career pathways that are possible. Prior to (and during) pharmacy school, I worked as an exercise physiologist in cardiac rehabilitation and transitioned to a primary care clinic focusing on sports medicine, functional medicine, and comprehensive health. The clinic and medical team were contracted with the National Football League (NFL) and the Los Angeles Chargers, and I became a part of their coordination team. In this position, I drew on my knowledge in health, exercise, and nutrition while implementing new ideas learned from my education in pharmacy."
Michael Kessler
PharmD '21
Pharmacist and Health Coach at Cenegenics
How do you feel your experiences at USC have prepared you for this next chapter in your life?
"My experiences at USC have made me more comfortable with using my voice and trusting my leadership skills. Although the school's primary responsibility is to educate you and prepare you to be a competent pharmacist, my experiences have made me more comfortable in using my communication skills to educate patients, speak with other healthcare professionals, and also become a better friend and companion. Through the challenges I have faced and conquered at USC, I am confident that I can effectively deal with life's ups and downs."
Whitney Fakolade
PharmD '21
Why did you choose the USC School of Pharmacy for your degree?
"Honestly, I only wanted to go to the USC School of Pharmacy for my degree. It was a calculated risk to only apply to one school, but I just knew I wanted a program that would best prepare me for a residency and then ultimately as a competent clinician in my specialty. Since I came back to school as a non-traditional student, I was not going to settle for anything other than the best, which I believed to be the USC School of Pharmacy for its unparalleled networking opportunities. I wanted to join a school that creates leaders who shape the pharmacy industry by extending the scope of practice."
Kaycey Pearce
PharmD '21
How did your experiences at USC prepare you for the next chapter in your life?
"The USC School of Pharmacy prepared me to become a well-rounded clinician, communicator and educator. I appreciate the rich leadership, internship and clerkship opportunities the school has offered me and my colleagues. Personally, these experiences have trained me to build my communication skills, be innovative and enhance my time management ability. I look forward to utilizing these valuable exposures from the PharmD program to positively optimize patient outcomes as a future pharmacist."
Jafar Essayli
PharmD '22
PGY1 Pharmacy Resident at Lucile Packard Children's Hospital Stanford
Why did you choose USC?
"The USC School of Pharmacy is located in East Los Angeles – an underserved community facing health disparities. I knew that attending USC would grant me opportunities to learn how I can be a valuable health care provider to vulnerable populations. I have been focused on building my network and meeting other like-minded healthcare professionals who want to make positive contributions to the field."
Luis Larios
PharmD '25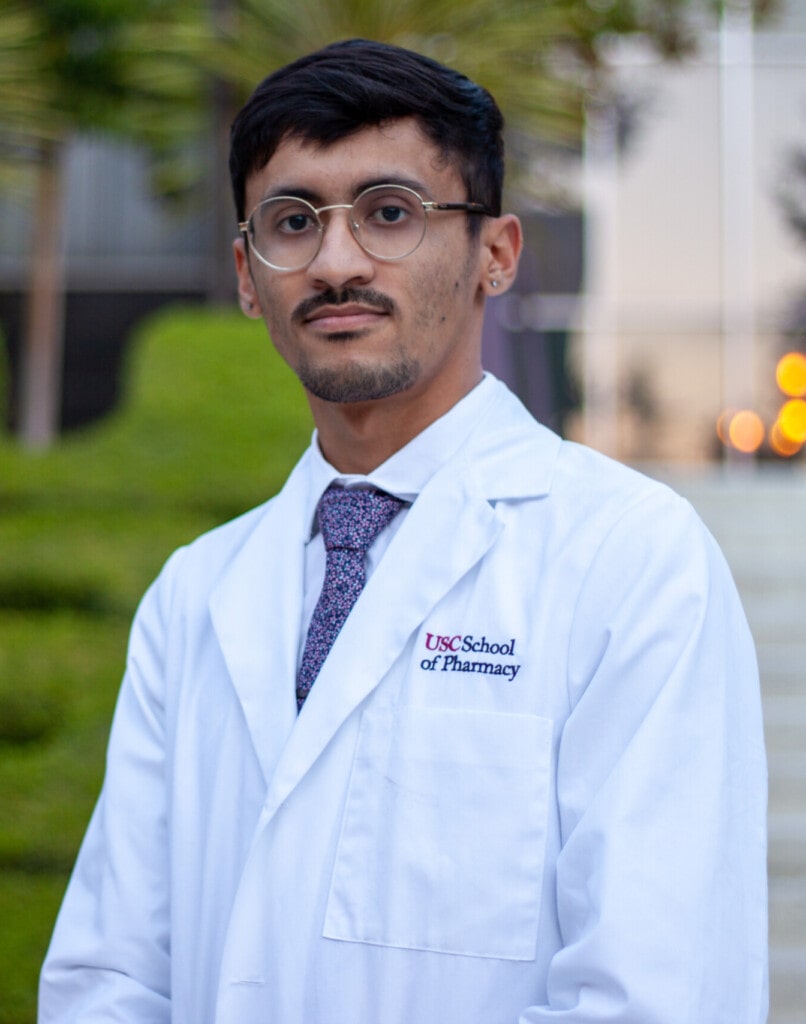 What motivated you to attend USC?
"When I was applying to pharmacy schools I was looking for diversity, professional networking and an advanced curriculum. I was attracted to the endless opportunities the School offers to students such as the opportunity to serve surrounding communities in Los Angeles, the connections the university has with professional leaders in the field, and the unique curriculum that offers students hands-on clinical experience within their first year in the program."
Alexander Cantres
PharmD '25
Your PharmD Path
During our innovative, four-year PharmD program, you will enroll in 15 to 18 units each semester. The first three years combine rigorous courses in the biomedical, clinical pharmaceutical, and social-administrative sciences with Introductory Pharmacy Practice Experiences.
The fourth year focuses on Advanced Pharmacy Practice Experiences in settings throughout greater Los Angeles and beyond, as well as a capstone project that further expands your expertise to launch your career.
At all stages, you will be mentored by an internationally renowned faculty dedicated to fostering the next generation of pharmacy leaders.