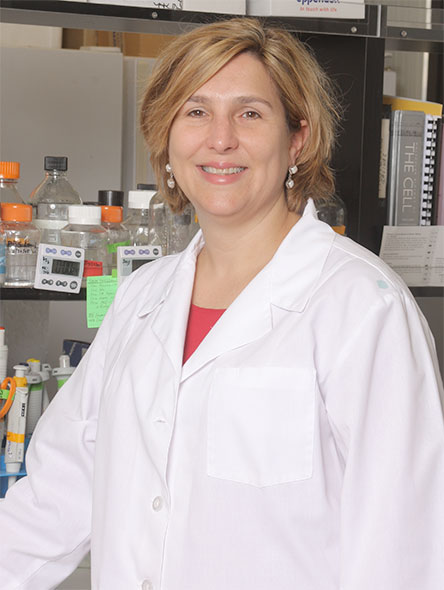 Sarah F. Hamm-Alvarez, PhD
Professor

Pharmacology and Pharmaceutical Sciences
Curriculum Vitae
Research Topics
Cell Structure & Organization
Membranes & Transport
Vision Research
Drug Design
Delivery
Physiology
Contact Information
9121 HSC

McKibben Addition

(323) 442-1445

(323) 442-1390
Education
BA 1986 Chemistry - Carleton College, Northfield, Minnesota
PhD 1990 Biochemistry - Duke University, Durham, North Carolina

Postdoctoral Research Fellowship:

1990 - 1993 Duke University, Durham, North Carolina
Sarah F. Hamm-Alvarez
Biography
Dr. Hamm-Alvarez received a B.A. in chemistry from Carleton College in 1986 and a Ph.D. in biochemistry from Duke University in 1990. After completing a 3-year postdoctoral fellowship in cell biology at Duke University, she joined the faculty in the Department of Pharmaceutical Sciences at the University of Southern California as an Assistant Professor in 1993. Dr. Hamm-Alvarez has joint appointments in the Departments of Physiology and Biophysics and Ophthalmology in the Keck School of Medicine.

Her research program focuses on characterization of membrane trafficking events facilitating regulated secretion of proteins through transcytosis and exocytosis in epithelial cells, as well as endocytosis of macromolecules and ligands. A particular area of emphasis is the elucidation of processes that mediate the sorting, packaging and release of tear proteins by the acinar cells of the lacrimal gland. A significant emphasis of her work is the discovery of the pathological changes in membrane trafficking mechanisms in lacrimal gland acinar cells that may contribute to the autoimmune dacryadenitis characteristic of Sjögren's syndrome. This work, ranging from fundamental cell biology, to animal, and to clinical studies, has led to the discovery of putative tear biomarkers for identification of Sjögren's syndrome patients with early stage disease. Her group is also working on novel drug delivery strategies for targeting of immunomodulatory agents to lacrimal gland and ocular surface tissues utilizing protein-based targeting of nano particles. Finally, her work on pathological changes in exocrine tissue in Sjögren's syndrome has identified potential additional targets for drug therapy, which have opened up the potential to explore the efficacy of a variety of new therapeutic agents for treatment of autoimmune exocrinopathy. Her research program is associated with extensive usage of high resolution molecular imaging techniques including confocal and multiphoton microscopy, intravital microscopy, electron microscopy as well as histology and other biochemical techniques (membrane fractionation, molecular biology) for studying intracellular trafficking processes.

She has authored numerous papers and reviews in the areas of membrane trafficking in epithelial cells, lacrimal gland and ocular surface and advanced drug delivery, and provides related expertise as a reviewer to a variety of journals and grant review boards. She has been the continuous recipient of NIH funding since 1994.
Selected Projects/Publications
View a complete Google Scholar search
Hamm-Alvarez SF, Janga SR, Edman MC, Madrigal S, Shah M, Frousiakis SE, Renduchintala K, Zhu J, Bricel S, Silka K, Bach D, Heur M, Christianakis S, Arkfeld DG, Irvine J, Mack WJ, Stohl W. TEAR CATHEPSIN S AS A CANDIDATE BIOMARKER FOR SJOGREN'S SYNDROME. Arthritis Rheumatol [2014] Jul;66(7):1872-1881. PubMed -Link
Chiang L,Ngo J,Schechter JE,Karvar S,Tolmachova T,Seabra MC,Hume AN,Hamm-Alvarez SF - RAB27B REGULATES EXOCYTOSIS OF SECRETORY VESICLES IN ACINAR EPITHELIAL CELLS FROM THE LACRIMAL GLAND. - Am J Physiol Cell Physiol [2011] Apr 27;() PubMed -Link
Li X,Wu K,Edman M,Schenke-Layland K,MacVeigh-Aloni M,Janga SR,Schulz B,Hamm-Alvarez SF - Increased expression of cathepsins and obesity-induced proinflammatory cytokines in lacrimal glands of male NOD mouse. - Invest Ophthalmol Vis Sci [2010] Oct;51(10):5019-29 -Link
Contreras J,Xie J,Chen YJ,Pei H,Zhang G,Fraser CL,Hamm-Alvarez SF - Intracellular uptake and trafficking of difluoroboron dibenzoylmethane-polylactide nanoparticles in HeLa cells. - ACS Nano [2010] May 25;4(5):2735-47 -Link
Yacobi NR,Malmstadt N,Fazlollahi F,DeMaio L,Marchelletta R,Hamm-Alvarez SF,Borok Z,Kim KJ,Crandall ED - Mechanisms of alveolar epithelial translocation of a defined population of nanoparticles. - Am J Respir Cell Mol Biol [2010] May;42(5):604-14 -Link
Schenke-Layland K,Xie J,Magnusson M,Angelis E,Li X,Wu K,Reinhardt DP,Maclellan WR,Hamm-Alvarez SF - Lymphocytic infiltration leads to degradation of lacrimal gland extracellular matrix structures in NOD mice exhibiting a Sjögren's syndrome-like exocrinopathy. - Exp Eye Res [2010] Feb;90(2):223-37 -Link
Kim YH,Fazlollahi F,Kennedy IM,Yacobi NR,Hamm-Alvarez SF,Borok Z,Kim KJ,Crandall ED - Alveolar epithelial cell injury due to zinc oxide nanoparticle exposure. - Am J Respir Crit Care Med [2010] Dec 1;182(11):1398-409
Wu K,Joffre C,Li X,MacVeigh-Aloni M,Hom M,Hwang J,Ding C,Gregoire S,Bretillon L,Zhong JF,Hamm-Alvarez SF - Altered expression of genes functioning in lipid homeostasis is associated with lipid deposition in NOD mouse lacrimal gland. - Exp Eye Res [2009] Sep;89(3):319-32 -Link
Xie J,Marchelletta RR,Thomas PB,Jacobs DT,Yarber FA,Cheney RE,Hamm-Alvarez SF,Trousdale MD - Transduced viral IL-10 is exocytosed from lacrimal acinar secretory vesicles in a myosin-dependent manner in response to carbachol. - Exp Eye Res [2009] Mar;88(3):467-78 -Link
Joo KI,Lei Y,Lee CL,Lo J,Xie J,Hamm-Alvarez SF,Wang P - Site-specific labeling of enveloped viruses with quantum dots for single virus tracking. - ACS Nano [2008] Aug;2(8):1553-62 -Link