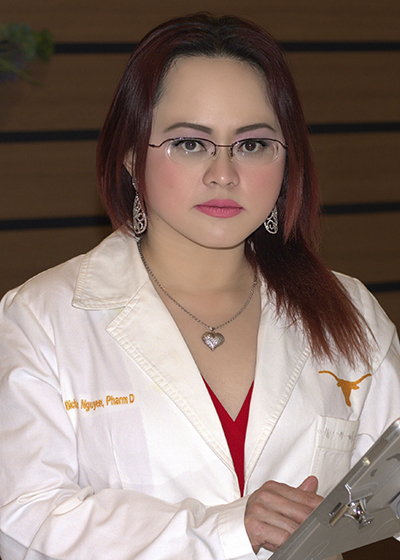 Bickkie Nguyen, PharmD
Adjunct Assistant Professor of Clinical Pharmacy
Clinical Pharmacy
Research Topics
Pharmacy Leadership/Management/Operations
USP 797/Sterile Compounding
Medication Therapy Management
Contact Information
Ivy league Healthcare
Management LLC
PO Box 1275
Long Beach, CA 90802
Education
PharmD, The University of Texas at Austin, 2012
Bickkie Nguyen
Biography
Dr Bickkie Nguyen is an experienced Director of Pharmacy, Assistant Clinical Professor, Clinical and Medication Therapy Management Pharmacist, Leadership/Management Trainer and Coach with experience in both inpatient and outpatient settings including small, medium, large, level 1 trauma, academic, acute care and long-term acute care hospitals and retail pharmacy.

Experienced in pharmacy operations, finance, recruitment, personnel management, leadership, leadership/management training and coaching, evidence-based clinical medicine, regulatory (State Board of Pharmacy, TJC, DNV, DEA, CMS), sterile and extemporaneous compounding, USP 795, USP 797, USP 800, drug purchasing/distribution, pharmacy informatics systems, training, mentorship, research and teaching. Currently, hold clear and active Registered Pharmacist (RPh) licenses in the states of California, Nevada, Arizona, Texas, Florida, Arizona, Louisiana, and Virginia with competent knowledge of pharmacy regulations in these states.

Dr Nguyen is passionate about leading effective, efficient, safe, cost-cutting and high-quality pharmaceutical care by collaboratively working as part of an interdisciplinary healthcare team, with a patient-centered approach by being an authentic, adaptive and transformational leader. Developing the next generation of pharmacists and technicians as a life-long commitment.
Selected Projects/Publications
2013: Management Case Presentation and Poster - Presented at ASHP Mid-Year Clinical Meeting, Orlando, Florida: "Implementation and improvement in pharmacy and nursing electronic communication: a medication safety, quality improvement and quality assessment of technology process"
2001: Vietnamese Professional Society Journal 2001, Pages 142-149
Title: Youth Participation in Democracy and the Community
-
Link