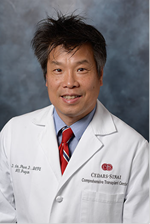 Lee D. Lam, PharmD
Pharmacist, Mechanical Circulatory Support, Cedars Sinai Comprehensive Transplant Center

Adjunct Assistant Professor of Clinical Pharmacy
Clinical Pharmacy
Research Topics
Antiplatelet & Anticoagulation in Mechanical Circulatory Support
Role of Thromboelastograph in Mechanical Circulatory Support
Drug Induced Nephrotoxicity
Renal Drug Clearance
Contact Information
Cedars-Sinai Medical Center
8700 Beverly Boulevard #A-845
Los Angeles CA 90048

310-210-9820
Education
PharmD, University of Southern California, 1991
Lee D. Lam
Biography
Lee Lam, PharmD, BCPS is Mechanical Circulatory Support (MCS) Pharmacist of Cedars-Sinai Comprehensive Transplant Center. He works with MCS patients implanted with Total Artificial Heart or Left Ventricular Assisted Device awaiting to receive heart transplant or as destination therapy.

He is Board Certified Pharmacotherapy Specialist. He did pre-pharmacy study at University of Oregon and earned his Pharmacy degree at the University of Southern California School of Pharmacy. He is appointed associate Professor of Clinical Pharmacy at UCSF School of Pharmacy and Adjunct Assistant Professor at USC School of Pharmacy. He served as Education Coordinator for 15 years working with students and residents before transitioning to work with end stage heart failure patients implanted with MCS devices.

He has received numerous of awards including: UCSF School of Pharmacy Long Foundation Prize for Excellence in Teaching, USC School of Pharmacy Preceptor of The Year, UCSF School of Pharmacy Apples for Preceptor Awards for Distinction of Excellence in Teaching (seven years running), Cedars Sinai President's Award for Outstanding Quality Performance & numerous Standing Ovations Awards for Quality Service.

In addition to precepting 4th year clerkship students, he also lectures at USC School of Pharmacy for 3rd year Cardiology Therapeutics Module V (Pharmacology of Diuretics & Renal Physiology) and 2nd year General Medicine & Inflammatory Disorders Therapeutics Module IV (Acute Kidney Injury & Chronic Kidney Disease).