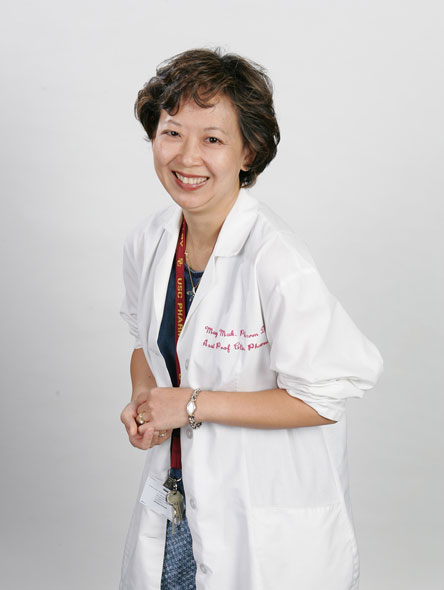 May C. Mak, PharmD
Assistant Professor
Clinical Pharmacy
May C. Mak
Research Interest
Dr. Mak's research interests lie mostly in clinical patient outcomes. Specifically, she hopes to explore the relationship between premature aging and diabetes and HIV. There are common denominators among these diseases that physicians can identify and therefore target aging issues in patients with diabetes and HIV at an earlier stage in life.
Biography
Dr. Mak received her Doctor of Pharmacy degree from the University of California, San Francisco. After graduation, she conducted clinical studies on pharmacokinetics of antiretroviral agents in HIV patients. Based on her desire to work with patients, Dr. Mak completed a primary care residency at the University of Southern California before joining the clinical faculty of the School of Pharmacy. Her patient care areas have included the management of diabetes, anticoagulation, HIV, and geriatric pharmacotherapies.

Dr. Mak has been involved with teaching over-the-counter drug products to entry-level Pharm.D. students. In the therapeutics courses, she has taught in the areas of diabetes, HIV, and geriatrics. She also holds two clerkship sites that house students on ambulatory care rotations; the two sites offer students diverse experiences in caring for both indigent and privately insured patients in different healthcare systems.
Selected Projects/Publications
Banafsheha L, Mak M, Gill M. Neuraminidase inhibitors: New strategies for the treatment of influenza A and B infections. California Pharmacist 2000; XLVII(3):51-63
Mak M. Overview of diabetes. An online publication for Integrated Chinese Medicine Holdings, Ltd. 2001 summer.
Mak M. Current strategies in the management of diabetes. 2 units continuing education. America's Pharmacist, 2001 November, pp 43-50.