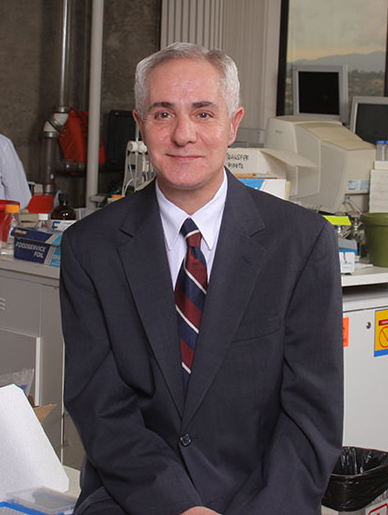 Enrique Cadenas, MD, PhD
Charles Krown/Alumni Professor
Pharmacology and Pharmaceutical Sciences
Curriculum Vitae
Research Topics
Signal transduction
Free Radicals
Antioxidants
Neurodenerative and age-related disorders
Aging
Alzheimer's disease
Mitochondria
Brain, neurons, astrocytes
Contact Information
School of Pharmacy
University of Southern California
1985 Zonal Avenue
Los Angeles, CA 90089-9121

(323) 442-1418

(323) 224-7473
Education
MD 1974 Medicine - University of Buenos Aires, Argentina
PhD 1977 Biochemistry - University of Buenos Aires, Argentina
1978-1980 University of Pennsylvania, Philadelphia, Johnson Research Foundation
Enrique Cadenas
Research Interest
Enrique Cadenas' research programs address the molecular mechanisms inherent in brain aging and Alzheimer's disease under an umbrella that characterizes and evaluates quantitatively the decline in energy metabolism associated with brain aging and age-related neurodegenerative diseases by addressing the coordinated regulation of signaling and transcriptional
pathways and mitochondrial function. This coordinated triad is critical in the regulation of brain glucose uptake and metabolism. This platform has been used to assess the therapeutic potential of several nutritional approaches that restore mitochondrial function and the associated signaling and transcriptional pathways as well as cognition (evaluated as long-term potentiation).
Enrique Cadenas' lab has ample expertise on mitochondrial bioenergetics, dynamics, and biogenesis, redox signaling, and redox modulation of transcriptional pathways as well as free radical biology and nitric oxide biology inherent in aging and age-related neurodegenerative disorders. In addition, his laboratory is engaged in the analyses of protein post-translational modifications associated with modulation of cell signaling as well as the ability to assemble and integrate comprehensively mitochondrial physiology and cell signaling- and transcriptional pathways.
Enrique Cadenas also collaborates extensively with international investigators focusing on modulation of nitric oxide concentration dynamics following hippocampal neuronal glutamatergic activation and hippocampal mitochondrial dysfunction in aging. This is part of a research program with the University of Coimbra, Portugal, that addresses the significance and regulation of the neurovascular-metabolic coupling axis in brain aging and Alzheimer's disease.
Biography
Dr. Cadenas received his M.D. and Ph.D. degrees from the University of Buenos Aires. He served as a research fellow at the Universities of Dundee (Scotland), Pennsylvania (USA) and Düsseldorf (Germany). Prior to coming to USC in 1989, Dr. Cadenas was an associate professor of pathology at the University of Linköping (Sweden). Currently, he is a professor of pharmacology and pharmaceutical sciences (USC School of Pharmacy) and professor of biochemistry and molecular biology (USC Keck School of Medicine).
Research Images
Selected Projects/Publications
View a complete Google Scholar search
Lethal dysregulation of energy metabolism during embryonic vitamin E deficiency.McDougall M, Choi J, Kim HK, Bobe G, Stevens JF, Cadenas E, Tanguay R, Traber MG.
Free Radic Biol Med. 2017 Mar;104:324-332. doi: 10.1016/j.freeradbiomed.2017.01.020. Epub 2017 Jan 14.
PubMed
Energy metabolism and inflammation in brain aging and Alzheimer's disease.
Yin F, Sancheti H, Patil I, Cadenas E.
Free Radic Biol Med. 2016 Nov;100:108-122. doi: 10.1016/j.freeradbiomed.2016.04.200. Epub 2016 May 3. Review.
PubMed
Mitochondrial function in ageing: coordination with signalling and transcriptional pathways.
Yin F, Sancheti H, Liu Z, Cadenas E.
J Physiol. 2016 Apr 15;594(8):2025-42. doi: 10.1113/JP270541. Epub 2015 Sep 16. Review.
PubMed
Astrocytic metabolic and inflammatory changes as a function of age. Jiang T, Cadenas E.Aging Cell. 2014 Dec;13(6):1059-67. doi: 10.1111/acel.12268. Epub 2014 Sep 19.PMID: 25233945 [PubMed - in process] PubMed -Link
High-fat diet induces hepatic insulin resistance and impairment of synaptic plasticity.
Liu Z, Patil IY, Jiang T, Sancheti H, Walsh JP, Stiles BL, Yin F, Cadenas E.
PLoS One. 2015 May 29;10(5):e0128274. doi: 10.1371/journal.pone.0128274. eCollection 2015.
PubMed
Hypermetabolic state in the 7-month-old triple transgenic mouse model of Alzheimer's disease and the effect of lipoic acid: a 13C-NMR study. Sancheti H, Patil I, Kanamori K, Díaz Brinton R, Zhang W, Lin AL, Cadenas E.J Cereb Blood Flow Metab. 2014 Nov;34(11):1749-60. doi: 10.1038/jcbfm.2014.137. Epub 2014 Aug 6.PMID: 25099753 [PubMed - indexed for MEDLINE] PubMed -Link
Neurovascular coupling in hippocampus is mediated via diffusion by neuronal-derived nitric oxide. Lourenço CF, Santos RM, Barbosa RM, Cadenas E, Radi R, Laranjinha J.Free Radic Biol Med. 2014 Aug;73:421-9. doi: 10.1016/j.freeradbiomed.2014.05.021. Epub 2014 Jun 2.PMID: 24887095 [PubMed - in process] PubMed -Link
Short-term cigarette smoke exposure leads to metabolic alterations in lung alveolar cells. Agarwal AR, Yin F, Cadenas E.Am J Respir Cell Mol Biol. 2014 Aug;51(2):284-93. doi: 10.1165/rcmb.2013-0523OC.PMID: 24625219 [PubMed - indexed for MEDLINE] PubMed -Link
Downregulation of the Werner syndrome protein induces a metabolic shift that compromises redox homeostasis and limits proliferation of cancer cells. Li B, Iglesias-Pedraz JM, Chen LY, Yin F, Cadenas E, Reddy S, Comai L.Aging Cell. 2014 Apr;13(2):367-78.PMID: 24757718 [PubMed - indexed for MEDLINE] PubMed -Link
Polyphenols from green tea prevent antineuritogenic action of Nogo-A via 67-kDa laminin receptor and hydrogen peroxide. Gundimeda U, McNeill TH, Barseghian BA, Tzeng WS, Rayudu DV, Cadenas E, Gopalakrishna R.J Neurochem. 2015 Jan;132(1):70-84. doi: 10.1111/jnc.12964. PMID:25314656 [PubMed - in process] PubMed -Link
Reversal of metabolic deficits by lipoic acid in a triple transgenic mouse model of Alzheimer's disease: a 13C NMR study.Sancheti H, Kanamori K, Patil I, Díaz Brinton R, Ross BD, Cadenas E.J Cereb Blood Flow Metab. 2014 Feb;34(2):288-96. doi: 10.1038/jcbfm.2013.196. Epub 2013 Nov 13.PMID: 24220168 [PubMed - indexed for MEDLINE PubMed -Link
Metabolic shift in lung alveolar cell mitochondria following acrolein exposure.Agarwal AR, Yin F, Cadenas E.Am J Physiol Lung Cell Mol Physiol. 2013 Nov 15;305(10):L764-73. doi: 10.1152/ajplung.00165.2013. Epub 2013 Sep 20.PMID: 24056970 [PubMed - indexed for MEDLINE] PubMed -Link
Age-dependent modulation of synaptic plasticity and insulin mimetic effect of lipoic acid on a mouse model of Alzheimer's disease. Sancheti H, Akopian G, Yin F, Brinton RD, Walsh JP, Cadenas E.PLoS One. 2013 Jul 17;8(7):e69830. doi: 10.1371/journal.pone.0069830. Print 2013.PMID: 23875003 [PubMed - indexed for MEDLINE] PubMed -Link
Methods in Enzymology. Hydrogen peroxide and cell signaling, part C. Preface.Cadenas E, Packer L.Methods Enzymol. 2013;528:xv. doi: 10.1016/B978-0-12-405881-1.10000-X. No abstract available.PMID: 23849873 [PubMed - indexed for MEDLINE PubMed -Link