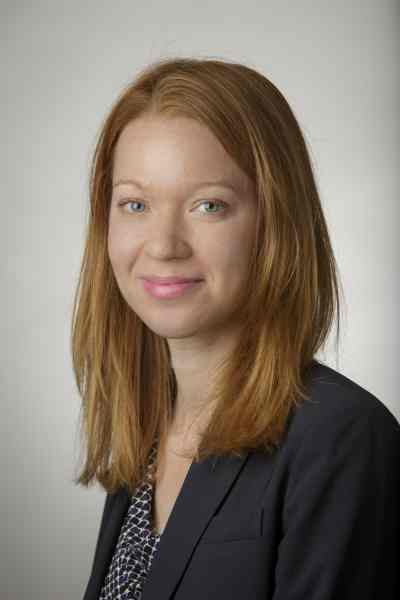 Rebecca Myerson, MPH, PhD
Assistant Professor, Department of Pharmaceutical and Health Economics
Pharmaceutical and Health Economics
Curriculum Vitae
Research Topics
Policy evaluation
Health economics
Chronic conditions
Global health
Contact Information
Web Sites

VPD Office 414E

213-821-8872
Education
PhD in Public Policy, University of Chicago, 2016
MPH, University of Washington, 2011
BA, Harvard, 2007
Rebecca Myerson
Research Interest
Rebecca Myerson's research centers on how interventions and policy changes affect incidence, diagnosis, and treatment of chronic conditions. She has a particular interest in how different patients self-select into health care and health insurance in different policy contexts and how this can shape the observed impacts of policy. Additional projects focus on how state-level variations in Affordable Care Act implementation affect trends in pharmaceutical use for diabetes and hypertension; the impact of trans fat bans on cardiovascular disease incidence; and migration responses to changes in policy.

Biography
Rebecca holds a doctorate in public policy from the University of Chicago with a concentration in applied econometrics, as well as a MPH from the University of Washington and a bachelors in psychology from Harvard. Prior to graduate school, Rebecca worked at the Institute for Health Metrics and Evaluation and conducted research in China as a Fulbright scholar.
Selected Projects/Publications
Myerson R, Colantonio L, Safford M, Huang E. "Does identification of previously undiagnosed conditions change care seeking behavior?" Health Services Research, 2017; EPub ahead of print. -Link
Brandt E, Myerson R, Coca Perraillon M, Polonksy T. "Cardiovascular event admissions before and after trans fat restrictions in New York." Forthcoming, JAMA Cardiology.
Myerson R, Laiteerapong N. "The Affordable Care Act and diabetes diagnosis and care: Exploring the potential impacts." Current Diabetes Reports, 2016; 16(4): 27. PubMed -Link
Olives C, Myerson R, Mokdad A, Murray CJL, Lim S. "Prevalence, awareness, treatment and control of hypertension in United States counties, 2001-2009." PLoS One, 2013; 8(4). PubMed -Link
Myerson R, Makela SM, Chandrasekhar C, Mathew S, Chakraborty S. "Determinants of condom uptake among HIV voluntary counselling and testing clients: experiences from a hospital-based study in south India." BMC Health Services Research, 2012; 12(13). PubMed -Link
Myerson R, Hou YB, Tang HZ, Cheng Y, Wang Y, Ye ZX. "Home and away: Chinese migrant workers between two worlds." The Sociological Review, 2010; 58(1): 26-44. -Link
Birnbaum J, Cowling K, Foreman K, Fullman N, Gubbins P, Levin-Rector A, Makela S, Marcus J, Myerson R, Schneider M. "Skeptical optimism: a new take on global health data." The Lancet, 2009; 374(9703): 1730-1731. PubMed -Link
Myerson R. "Policy analysis with endogenous migration decisions: The case of left-behind migrant children in China." (Under review) -Link